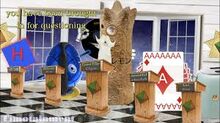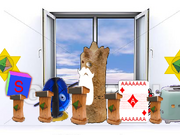 This article is about the Council itself, not the meme. To see the meme, visit Riddle of the Rocks Prequels.
The false Council of the Ancients was a fake council set up by the Pillar Lord that supposedly governed all the dimensions. It consists of Grand Pillar Cl'egius, who is the leader, Lord Bread, T̶̨͙̞́̓̆̈́͘̕̚ͅH̸̞̱́Ḛ̴̡̛̙̩̀̒̌ ̶̺͇̻͚̼̥̋͌͘C̶͖̓͊͠Ȗ̸̢͕͕̭̪́͜B̸̳͇̏͑͆̾͛͝Ȩ̷̭̬̀͗͒͂́͆͘, Ambassador BL uee, and aaaaaAAaAaAaaaAaAa. In Council of the Ancients, the Council sentenced Meme Man to Yamnation for destroying dimensions carelessly. In Quest for the Octahedron, it was revealed that the Pillar Lord was controlling the Council, or at least the Grand Pillar. However, it wasn't until Riddle Of The Rocks 2 that it was confirmed that the council was not only being controlled by the Pillar Lord, but that it wasn't even the real council at all.
While this council is not to be trusted in BagelBoy's canon, they are trustworthy and in fact a real council in the PoseidonHeir timeline, MoistCheese timeline, and considered the real council by many.
The pedestals for each council member each have an octohedron on them, a commonly seen symbol in surreal meme.
Appearences
Edit